Sneakerserver Review – Copping tools 101
For all of you sneaker heads out there, Sneakerserver is like a golden goose for good pings on shoe dedicated shoes. Especially if you want to use a bot for accessing multiple pages. That is possible with their All in ONE Better Nike BOT (Or BNB as the original is called).  This Sneakerserver review help you decide if the service fits your needs.
Experienced in the copping game
SneakerServer.com has been in the copping game as long as I can remember. They provide an essential hosting platform for sneaker bots like AIOBOT, Better Nike BOT, or any other automation script you prefer. The proximity and great pings to footsites is their best selling point.
Besides this, though, you can all pick up from a vast list of servers and proxies, for Windows and Linux. But getting all that aside, let's get technical.
Pings  of < 1 millisecond is what they advertise and boy, do they deliver. They indeed provide the sub 1 ms pings to a plethora of shoe sties like  store.nike.com, footaction.com, footlocker.com eastbay.com etc. The 1GBPS might be a bit of an overkill for the copping bots, but hey, if something is worth doing, then its worth overdoing!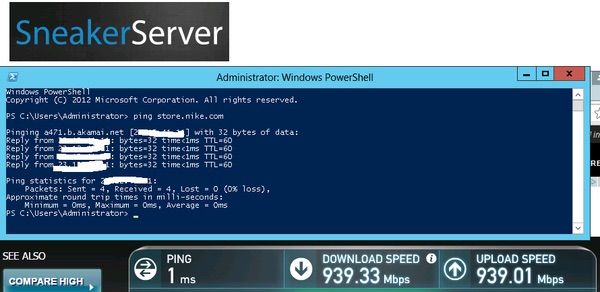 Besides the ones in Virginia, New York and Texas, the company has a few in the Netherlands. Besides the cold canals of the north western European country, the company has also planted their server roots in Poland, the United Kingdom, Russia, Hong Kong and Australia.
Most popular product: Windows Virtual Private Server
The main service that the company provides is packages of windows VPS. These can do all the regular things a regular virtual private server can do, like, website hosting, but we all know that if you want those things you get a Linux VPS (which they also provide)
The main use for their windows vps is to run GUI bots of different varieties, SEO, Sneaker copping, hype copping,  applications and many others web related activities, and having 1GB network to work with, they do all those things well. Having only 1 IP address, you should also check out proxy packs to keep your bots running without being banned.
They also provide BetterNike bot licenses. We will discuss this in the end of this review.
Ordering Servers
They use a standard WHMCS checkout page that we're all accustomed to. The order and checkout process is as easy as it gets. Don't forget to add our promocode on the checkout form to get 10% recurring (see here).
If you have any pre-buy questions, be sure to check out their FAQ page that will answer 90% of the questions a potential customer might ask. For the other 10%, use the live chat app and bother a poor support guy with your specific questions.
One aspect that its not that great is that they don't offer any kind of refunds. Although this is a very unpopular decision, I get where they're coming from.  Sneaker sales usually last a very narrow period of time. One could abuse a potential refund policy to its advantage by asking for a refund after the sneaker sale is over, using the server for free basically. That would not be very nice, but we all know that there aren't many nice people left on the internet.
Plans list 
Economy= (40$ per month). For this basic one you receive 2 GB RAM, a 2 CPU Core, Unlimited Bandwidth, 1GB uplink, Live Chat and Email Support.
Standard= (50$ per month). This package gives you 3 GB RAM, a 3 CPU Core, Unlimited Bandwidth, 1GB uplink, Live Chat and Email Support.
Professional= (60$ per month) Not we get serious. 4 GB RAM, a 4 CPU Core, Unlimited Bandwidth, 1GB uplink, Live Chat and Email Support.
Ultimate= (80$ per month)- 6GB RAM, 6 CPU Core, Unlimited Bandwidth, 1GB uplink, Live Chat and Email Support.
Business= (110$ per month)- 8GB RAM, 8 CPU Core, Unlimited Bandwidth, 1GB uplink, Live Chat and Email Support.
Enterprise= (200$ per month)- 12GB RAM, 12 CPU Core, Unlimited Bandwidth, 1GB uplink, Live Chat and Email Support.
Sneaker Enthusiast= (260 $ per month) – 24GB RAM, 24 CPU Core, Unlimited Bandwidth, Live Chat and Email Support.
Overkill= (500$ per month)- 56GB RAM, 56 CPU Core, Unlimited Bandwidth, 1GB uplink, Live Chat and Email Support.
The biggest fan base and clientele that company managed to gather over the years is the sneakerhead one. Their Bots and servers are mostly driven for this market, and if you are interested to start this passion project, Sneakerserver might just properly fit your interests.
Delivery and 24/7 Support
Although their advertised time is from 3h to 24h, we got our machine within the hour of paying the invoice. This is a very important factor for me personally as there's no time wasted on waiting for annoying "PENDING" orders that deflate your enthusiasm to get things done.
The same speedy service is offered for support. They have both live and a ticket system, manned by a qualified team, 24/7  that will fix any issue you might have, with great response times.
Better Nike Bot brief review
After we got through their list of servers, let's see what else the company offers us. Well, if you check their other products, you might find something called All in ONE Better Nike Bot. Before it, though, Sneakerserver had one called Better Nike Bot. The problem with it, tough, is that it worked fine on the Nike site but not with other websites. So it only liked to play nice only with the cool kid on the playground, and the company received quite a negative feedback for it. In response to it, All in One BNB has been created. Like a Phoenix, it rose from the ashes. Is it a good investment, though?
Also, it is compatible with a lot of sneaker sites, like Footaction, Eastbay and NiceKicks etc. So you don't have to worry on this department, as it also the list also gets constant updates.
As of options you might expect from a sneaker bot, it does the usual stuff, like adding sneakers into your cart, checks them out. It supports unlimited accounts, and a proxy support, so you can be assured that your online ninja skills are protected.
If you go deeper, and you want to get creative with accounts and search options, All in One BNB also offers help in that department. From the possibility to edit multiple accounts at the same time, you can also modify the keywords and it has a PayPal Auto checkout option.
You can buy the bot at either 200$ or 600$. It depends on how deep you want to get into the sneakerhead mania.
Conclusion
As it stands at the moment, Sneakerserver.com is an experienced service provider, that for years have delved into a number of server and bots related business ventures. As for their client support, their known for their swift response time.
In case of the prices, if you think that their too step, don't worry as we can also provide you with a Bytenews.org Exclusive coupon for a better deal on our discount page